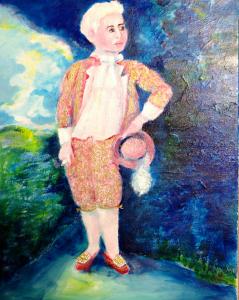 This painting based on Thomas Gainsborough's Pink Boy is completed. I used the pose to depict a woman poet who was English. She wrote in the early 1900s.

I used acrylic on canvas. In between layers, I added glaze medium. Additional shading was done with a tint of color plus glaze medium.. The gold embellishments were added using a pen. There are many gold pens available and all golds are not the same. I opted not to use any oil-based pens. It was tempting not to use the 18K gold pen!

You will see that my work is similar but not a copy. First, that is because I cannot copy another's work! The shirt has a bow similar to those worn by the subject in photos. I decided not to overdo the suit with raised patches in order keep the focus on the face. There is a bronze-green color on the shoes but I chose to match them to the suit. Her hair was cut short with a pompador in her teens.

Glazing takes time. You can use a heat gun to help dry each layer. The extra time allows you to observe what needs correcting. Next post, I will use gel medium instead of glazing.