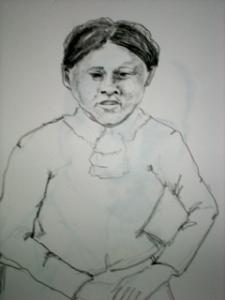 What's Your Point?
Do you want to be an artist best known for your drawings? If that is your goal, learn as much as you can about its history, the materials used, and the various styles.

All drawing is not equal. It is related to one's own rhythm in the way handwriting is distinctive. Understanding what you bring naturally will help you understand your own progress. It is a way to communicate.

There are ways to learn more and to enjoy your work, but what if your goal is to paint? Then, PAINT! Use the brush or other tool (sponge, wipeout, etc.) to plan your painting. Drawing and painting can be used together, as in using a strong outline.

Some lightly draw all details which may be covered up by paint. Try various methods of starting a painting with and without detailed drawing. You will know what results you prefer. You may get the best results starting a painting, adjusting as you go. It is the doing as much as the completed work.

Cant paint? Cant draw? Are you able to get your hands in clay to sculpt or shape pottery? Even embroidery or handcrafts depend on the same basics of composition, line, color etc. which are important in any art form. Having the right tools get the best results.

Writing or music your thing? Collaborate when you need skilled art. We do not have to do it all.

Drawing tools
The cheapest and most available are paper and pencils. The 2B pencil gives a medium tone as well as a soft dark. The lead can be sharpened to a point or a wedge. Learn to keep a sharp knife close, always cutting away from you. Try other pencils: soft to hard leads, mechanical, charcoal, etc. Add to your basic tools slowly. Try drawing using your pencil on its side. Make lines from bottom up. Is it easier to control? What kind of line is YOURS? Date the work.

Paper Collection

Papers vary greatly. Start a collection from printer paper, stationery, toned or black,etc. Some papers have a smooth surface, while others are textured, called tooth. Each side may be different.

Make copies of drawings you admire. Select a few you do not like. Rate each 1 to 5. Do not rate your work. Review it after you have done a minimum of 20 samples.

How long did it take you to learn to print and write cursive? Your drawing line is an extension of your movement and ability to let your fingers, hand, wrist move over the paper. Do not erase unless you are drawing with a knead eraser to lift up shaded pencil or charcoal. Set a time limit. Rest your eyes, shoulders and do finger exercises before and after each session.

Just ideas

Slowly add to your tool kit. These suggestions are to encourage you to play a bit, gain confidence, and to find your comfort level. Not pencil? How about pen? Wordsmith? Exaggerate words or letters and repeat. Look at upside down for design elements.

Share your thoughts.

Comment on the website or email me on bettye.harwell@artistwebsites.com

Want a critique? In December, send me a copy of one drawing and I will email you back.

Knead eraser: (definition) a grey eraser which can be folded in on itself to get a clean surface. It does not mar the paper surface. You can also make a point to lift out a small spot or to use as a drawing tool itself.

P.S. You can subscribe to get emails of new art posted. Thanks.