January 31st, 2014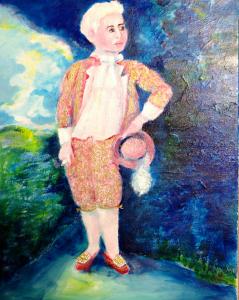 This painting based on Thomas Gainsborough's Pink Boy is completed. I used the pose to depict a woman poet who was English. She wrote in the early 1900s.

I used acrylic on canvas. In between layers, I added glaze medium. Additional shading was done with a tint of color plus glaze medium.. The gold embellishments were added using a pen. There are many gold pens available and all golds are not the same. I opted not to use any oil-based pens. It was tempting not to use the 18K gold pen!

You will see that my work is similar but not a copy. First, that is because I cannot copy another's work! The shirt has a bow similar to those worn by the subject in photos. I decided not to overdo the suit with raised patches in order keep the focus on the face. There is a bronze-green color on the shoes but I chose to match them to the suit. Her hair was cut short with a pompador in her teens.

Glazing takes time. You can use a heat gun to help dry each layer. The extra time allows you to observe what needs correcting. Next post, I will use gel medium instead of glazing.

January 20th, 2014
acrylic on canvas
Charlotte (in progress)
Blog University 16 - Imagination

What do you do if your subject is unattainable? Imagine it.

I am painting a woman who died before I was born. Her story is the subject rather than realism. After reading a great deal about her life and work, I selected two opposing ideas to incorporate:

1. She wore her father's clothes after his death.
2. "She dressed like a dandy." This quote was by a contemporary person.

Why not paint her in the style of Thomas Gainsborough? Student artists learn by copying great paintings. The Blue Boy had remained famous during her lifetime. While researching, I found Pink Boy. It was a better fit for my subject.

By making a sketch, I learned an amazing structure is under the composition. You can trace a print to find the lines and shapes in the composition. A black/white print may also instruct. Consider making a value study.

My painting is developing slowly 'in the style of' rather than a copy. Each layer corrects the drawing and colors. By glazing and adding texture, the finished work should emerge. I believe attire is like a costume and expresses something about the person. The painting shows something about the artist's imagination, also.

Image: Charlotte (unfinished) acrylic on canvas

http://wp.me/p1P35l-Sc
January 2nd, 2014
Discussion of dark and light in the arts: painting, music, etc. Description of the Horse Fair by Rosa Bonheur.
August 10th, 2013
My recipe: Like any recipe, adjust it and make it your own.

Caution:
Take reasonable precautions. Keep water handy. I like a spray bottle.

Oven baked clay*
Fome ball or wet tissue
Extender clay optional
Medium and wax

Hot air gun
Griddle or heat source**
Shaping tools
India ink optional

1. Collect materials needed. Set up area to work.

2. Knead clay until it can be rolled into a ball. Add enough extender to get a smooth ball.

3. Press clay flat enough to cover the fome ball. If head is smaller pare off enough to be completely covered. Wet tissue is another possibility to lighten head.

4. Shape face and hair. Use things like toothpicks, palette knives, fingers.

5. Shape a neck to attach head. One or two holes will permit thick thread to be inserted.

6. Bake the head following directions. The head should stand. Cool.

Waxing the face
In tuna cans, melt enough medium to divide with the number of colors you wish to use. Non-synthetic brushes are the only ones to use.

Colors
Place stick or darning needle through holes.

Use Medium first. You could also use gesso. Cover all but the part that will be used to anchor the head. Fuse with hot air gun to glossy stage.

I used layers colors: orange, red, red-orange, blue and green. Fuse between each layer, using only enough heat as needed. To mix colors, put drops right on heat and paint from the mixture. Black piece can be put on heat without medium for hair.***

Cooling, Carving
Let the waxed head cool. If it no longer stands, place a drop of hot wax on support and it will stand. Unused wax can be reused.

Carve and smooth the wax as needed.

Eyes can be painted with a skewer touched in india ink. I tend to ignore eyebrows but what ever works for you. Want more color detail? Oil paint, pastel,powdered pigments are possible additions to rub on.

Finishing
Buff the head with a soft clean cloth. Wax may feel tacky. Wax will get smooth and transluscent. It also may feel cold.

* I have used two types. One is very white. The other is more tinted.

** You can use an old griddle, electric frying pan with a thermostat. Thermostats about $10 at Target. Up to 200 degrees for wax.

*** See craft books for hair ideas. (Search engine Bing or Google)

Questions? Email me: Contact/Subscribe above


August 9th, 2013
The revived interest in encaustic for fine art has finally caught up with me. When you take a break from working in your medium the world does not stop. Encaustic wax is an ancient process. It may not interest you. Throwing wet clay on a wheel has not been appealing to me. But trying different things helps in all of your efforts.

It is important to work and study to be inspired outside of your chosen medium. Self-educating includes keeping up with the new materials and their uses. The art basics do not change regardless of medium. Strong patterns, contrasts, color, harmony may vary by the skill and temperament of each artist.

I am coming to this medium like all converts do: with all the curiosity and energy possible. I do not have the time to start at the beginning but want to see the possibilities. Even to try using wax in non-recommended ways. For example, there are some 'no-no' s.* I like to look for alternative methods.
*You can never use water based mediums with the wax. See Martha Stewart video in her TV archives and decide.

Take a class? Are you comfortable? Play with it. See what controls you have with a new process. No knowledge is wasted. Years from now you will glad to have tried it.

The photo is of two dolls in progress. The heads and arms are made with oven baked clay. They were painted with melted wax. A little powdered pigment was rubbed into their hats and rouged the faces. They are temporarily standing on fome cones. Eyes are touched with a skewer dipped into india ink. Crude but with attitude. What would you do with wax?

**next Blog University for how-to make the heads.

June 20th, 2013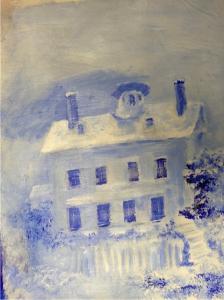 Cool Art Sale
Two Day Studio Clearances
Hanging Around
1506 8th Avenue S
Nashville TN 37203

June 28 Hours: 10 AM to 5 PM
June 29 Hours: 10 AM to 2 PM

Original artist's work from Hanging Around, Bettye Harwell and Toni Hooper. Art for sale includes Paintings, Stone Sculptures, Drawings and Photographs. All welcome.
Online purchases: email: see Contact above.
February 26th, 2013
The best thing for artists has been the development of computer programs and apps. This digital painting is composed of two digital 'paintings' merged with a collage.

The apps for iPad are
1- Paper by 53
2- Painterly
Using Painterly, photos can be imported and merged selectively by rubbing the top photo.

An abstract was designed using the Essential kit in Paper. If bought within the free app, these additioal brushes and colors are well worth the price.
I did shapes of color and pattern similar to a stone pavement. Using the eraser in the kit, I randomly did a line of white through the shapes. Use your finger or a stylus.

Another design was done of a young girl in profile. A blue circle behind her head is done with two shades. Another circle is formed with the eraser.

Collage and the finished product.
I had earlier made a notecard using a cutout from a paper towel. The design was formed by acrylic paint on my palette soaking into the towel. An orange feather and crystals enhanced the costume of the dancer.
By moving this image, I was able to duplicate the dancer. Then I used the abstract to create an overall pattern.

Each person will produce different results. Try experimenting. Gain confidence and understanding of art principles. Love what you make.



February 26th, 2013
This will be a change of pace. I am appreciative of any method that works in the development of one's art. The academic way was always to start with drawing. And there is nothing wrong with that if you learn from it.

Are you comfortable with the pencil, charcoal pen or ...? If you are and get the results you want, go for it. If not, try another method or medium. I started late, moving from being a craft instructor, to painting.

My first oil painting started with turpentine, a rag and a color. I put this color over the canvas in a thin manner. I used the rag to block and lift out the shapes of a still life. From that, I began to draw and refine the images using more paint than turpentine and a brush.

Look to see how many different approaches are out there. You may find that you get different results by feeling free in how you work. Over time, you will find yourself challenged to explore these varied starts.

December 22nd, 2012

The art (Puss 'n Boots)

This is the original small painting entered into the @twitterartexhibitla sale of postcard art. It is painted with metallic colors on watercolor paper. I sharpened my drawing with pen and ink using a broken line. The child's collar is the white of the paper. These colors are true to the artwork.

Who knew?

Using the Enhance part of iPhoto (on the MAC), the colors changed dramatically! (See the second image on this site or go to http://leartisteboots.wordpress.com)

The collar, now brown, shows how different this photo is from the original. This view picks up the various sparkling pigments in the paint in a new way.

I was so thrilled with the result that I have put it on my artist.website available for greeting cards and prints. However, I could not use this as a promotional photo because no one would believe it was the same work. I submitted three other postcards using the same painting technique. However, they did not change from the original when using the Enhance button.

All four cards can be seen on twitter and tumblr. The show and sale will be held in Los Angeles from January 12 to February 10, 2013. All proceeds support a local charity working with kids.

Need help?
Scan and enhance your paintings and drawings in the computer. This is one way you may see more potential in your work than with the naked eye.

Related articles

Push Your Boundaries (leartisteboots.wordpress.com)
Blog University 6 (leartisteboots.wordpress.com)
Picture Post Cards (seniorsamurai.wordpress.com)
Call for Artists: Op @ Exhale Unlimited Gallery, Los Angeles (artistmarketingresources.com)
December 4th, 2012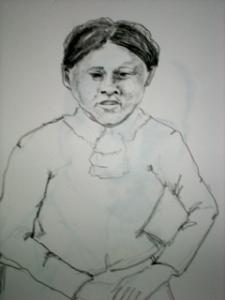 What's Your Point?
Do you want to be an artist best known for your drawings? If that is your goal, learn as much as you can about its history, the materials used, and the various styles.

All drawing is not equal. It is related to one's own rhythm in the way handwriting is distinctive. Understanding what you bring naturally will help you understand your own progress. It is a way to communicate.

There are ways to learn more and to enjoy your work, but what if your goal is to paint? Then, PAINT! Use the brush or other tool (sponge, wipeout, etc.) to plan your painting. Drawing and painting can be used together, as in using a strong outline.

Some lightly draw all details which may be covered up by paint. Try various methods of starting a painting with and without detailed drawing. You will know what results you prefer. You may get the best results starting a painting, adjusting as you go. It is the doing as much as the completed work.

Cant paint? Cant draw? Are you able to get your hands in clay to sculpt or shape pottery? Even embroidery or handcrafts depend on the same basics of composition, line, color etc. which are important in any art form. Having the right tools get the best results.

Writing or music your thing? Collaborate when you need skilled art. We do not have to do it all.

Drawing tools
The cheapest and most available are paper and pencils. The 2B pencil gives a medium tone as well as a soft dark. The lead can be sharpened to a point or a wedge. Learn to keep a sharp knife close, always cutting away from you. Try other pencils: soft to hard leads, mechanical, charcoal, etc. Add to your basic tools slowly. Try drawing using your pencil on its side. Make lines from bottom up. Is it easier to control? What kind of line is YOURS? Date the work.

Paper Collection

Papers vary greatly. Start a collection from printer paper, stationery, toned or black,etc. Some papers have a smooth surface, while others are textured, called tooth. Each side may be different.

Make copies of drawings you admire. Select a few you do not like. Rate each 1 to 5. Do not rate your work. Review it after you have done a minimum of 20 samples.

How long did it take you to learn to print and write cursive? Your drawing line is an extension of your movement and ability to let your fingers, hand, wrist move over the paper. Do not erase unless you are drawing with a knead eraser to lift up shaded pencil or charcoal. Set a time limit. Rest your eyes, shoulders and do finger exercises before and after each session.

Just ideas

Slowly add to your tool kit. These suggestions are to encourage you to play a bit, gain confidence, and to find your comfort level. Not pencil? How about pen? Wordsmith? Exaggerate words or letters and repeat. Look at upside down for design elements.

Share your thoughts.

Comment on the website or email me on bettye.harwell@artistwebsites.com

Want a critique? In December, send me a copy of one drawing and I will email you back.

Knead eraser: (definition) a grey eraser which can be folded in on itself to get a clean surface. It does not mar the paper surface. You can also make a point to lift out a small spot or to use as a drawing tool itself.

P.S. You can subscribe to get emails of new art posted. Thanks.